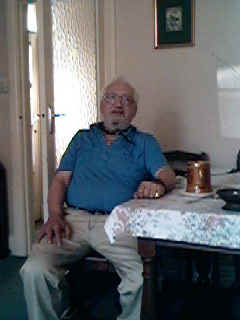 During a period of over 50 years, Ron Shuttleworth has amassed an enormous collection of copies of all known references to mummers plays throughout Britain and Ireland. The collection became the 'Morris Ring Archive on Folk Plays and Mumming', and is now housed in the Special Collections Department at the University of Sheffield. Ron has also produced a fully-catalogued digital copy of the collection. Ron has frequently been consulted by international scholars of folklore, English, Drama and Theatre Studies, and his collection is proving to be an invaluable resource.
Ron Shuttleworth was born in Sheffield in 1930, and brought up in Hathersage, Derbyshire. He settled in Coventry in 1960 and married Jean (1927-1998). His interests included camping and folk music and, in 1966 whilst helping to run Coventry Folk Workshop, he started the performance group Coventry Mummers of which he is still a member. Eager to find out more about the subject, Ron started to copy references and articles about mummers plays.
In addition to books, booklets and articles in magazines and journals, the collection includes ephemera and trivia, video and audio tapes, images, theses, dissertations and other unpublished writings. As well as the various types of mummers plays, including wooing plays, the Derby Tup and Robin Hood plays, the collection includes material on long-sword plays and hobby horses. At the last count, there are over 4,000 separate items in 183 volumes (each volume contains at least 100 sheets). Donations of new material are still welcome. He is happy to discuss Mumming  ad nauseam.
Link to more details about the collection at Sheffield; Ref: MS 456
https://www.sheffield.ac.uk/library/special/morrisshuttleworth
Please get in touch with me on the contact page.