Welcome to the Home of the Ron Shuttleworth Collection/Archive on everything connected with Folk Plays and Mumming. Specifically including Mummers plays, Pace-Egg plays, Souling Plays, Plough plays or Wooing plays, Sword-Dance plays, Derby Tup plays and Hobby horse plays and all aspects of English language Folk Drama.
N.B. If you have visited this site looking for R.S. the lyric-writer and occasional (folk) singer, it's me wearing my other hat. Contact details work.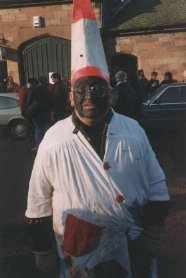 Portuguese
This site gives access to a unique and exhaustive   resource on the English language Mumming play and related traditions.
The archive includes – a paper based collection housed in the Special Collections Dept. of the University of Sheffield and a more extensive digital version administered from Coventry, England; also a database of material written about mumming, the complete texts of booklets written by the Archivist; and more…
Broad categories include-
Hero-Combat Plays. Wooing Plays, Plough Plays, Sword-Dance Plays, Derby Tup Plays, Hobby Horses, Robin Hood Plays, Folk Plays & Other Arts, Miscellanea plus many related items.
Serious enquirers should also consult the other two major sites on the subject-
Master Mummers and Folk Play Info.